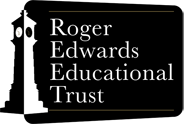 Benefiting the people of Usk by supporting social, academic and physical education projects and individuals of all ages.
What is the Roger Edwards Educational Trust (REET)?
We are a charity which makes grants to individual and organisations. All grants are to be used for educational and training purposes which benefit people of all ages living in the Usk district. The trustees are unpaid volunteers who all live locally.
Who was Roger Edwards?
Roger Edwards died in 1624. He lived at Allt y Bela, and was a farmer and merchant. He founded Usk Grammar School and left property and assets to fund the school. In 1956 the Usk Grammar School Foundation was set up to deal with the assets and Monmouthshire County Council was the sole corporate trustee. Two thirds of the income from the Foundation was used to support the Monmouthshire Farm School Endowment Trust which in turn part funded the former agricultural college at Usk and agriculture students.
The remaining one third of the income was required to be used to support educational projects and individual students living in Usk and the surrounding district.
This arrangement remained in place for over 50 years until November 2008 when, following a long campaign led by the late Lord Raglan, the County Council relinquished its control of the Trust.  The Roger Edwards Educational Trust (REET) then took the form in which it exists today.
What has REET done since it came back to Usk?
Since 2010, REET has made over 140 grants, totalling over £183,000, to individuals and local organisations, including nearly £40,000 for the benefit of Usk Primary School. We also funded the purchase of the former Borstal Field next to Usk Athletic Club to secure it as a permanent training facility for the community and have more recently made the former Usk Library available as a rehearsal and storage facility for Usk Brass Band. Activities we have supported include educational and volunteering travel projects, Scouting and Guiding trips, musical education, vocational training and retraining courses, undergraduate placements for which funding was not available, unpaid internships, postgraduate masters and PhD studies, and a wide variety of sporting activities including athletics, badminton, cricket, cycling, rowing, rugby and softball.
In addition we have transferred over £300,000 to the Monmouthshire Farm School Endowment Trust Fund (MFSET) as required under our charitable objects. This large commitment has restricted the number and size of grants we have made locally.
There's no age limit for grants; in fact we encourage interest from older people who may be changing careers or obtaining new qualifications later in life.
This is a local charity run by Usk people for the benefit of Usk and district residents, and financed by the generosity of an Usk merchant nearly 400 years ago. Our area of benefit broadly covers most people resident in an NP15 1.. postcode area: we welcome applications from anyone who meets this residential test.